River Aire Walk. Section 1.
Leeds City Station to Victoria Bridge via Dark Arches and Granary Wharf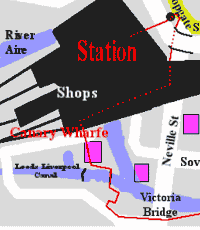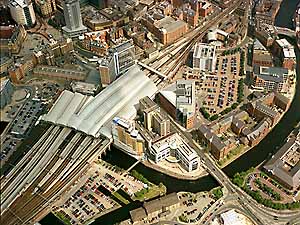 Aerial photograph Leeds City station courtesy of webbaviation.co.uk

Please Note that most of this area in front of the arches at Canary Wharfe are now a building site and access may be prohibited
| | |
| --- | --- |
| | Leave the railway station via the main exit (straight forward from the ticket barrier). Cross the road and descend the staircase inside the round tower. See photo. |
| | |
| --- | --- |
| | Turn right at the foot of the stairs. Photograph shows the exit you will come out of. Walk along Neville street, under the railway bridge. While still under the bridge turn right into the arch that runs under the station. |
Granary Wharf & Dark Arches

After passing a couple of car parks in side arches you pass over a bridge, see photo, over the river Aire that flows through a few side arches.

The flow of water can be fast and is quite a sight as it rushes through these tunnels after a heavy rainfall.
This view is taken from the bridge that can be seen in the above photograph. The river Aire is running toward you and under the bridge.

Granary Wharf is well worth a visit. A collection of shops, many selling items that are a bit different and unusual.
Granary wharf also has cafes and restaurants. All these places are situated in the railway arches that are under the railway station. This photo is taken from the shop and stall area, with the river running from left to right. Note how the flow is split and sent through several tunnels.
| | |
| --- | --- |
| | There are a few exits from the arches to the open area of Granary Wharf sunshine. The towpath to the right takes you toward Kirkstall. another nice walk in summer. Head towards the canal. This is the start of the Leeds and Liverpool canal. In summer barge trips are run between Granary Wharf and The Armouries Museum. |