Search Leeds & UK Site
View leeds-uk on

Facebook
About The Carriageworks Theatre
Two auditoria of 350 and 80 seats with state of the art equipment, rehearsal and dressing rooms, the Carriageworks will aim to provide low cost performance space in a prestigious city centre venue for theatre graduates and local performing groups.
Exhibition and Conference rooms
Bar
Coffee Bar
Program of Shows at the
Carriageworks Theatre
The Carriageworks Theatre Program April 2011

3 April
Little Bo Peep
4 - 6 April
Encore!!
5 April
Underneath The Floorboards
7 April
The Elves and The Shoemaker
11 - 13 April
Free Birds
18-21 April
The Jewish Wife and A Respectable Wedding
19 April
Fever Pitch
21 April
Discombobulated
24 April
The Harbour
25 April
Gone, Gone & Gone
26-28 April
Plays For Today
28 April
Comedy Club 4 Kids
28 April
Frisky and Mannish: Extracurricular Activities

The Carriageworks Theatre Program May 2011

1 May
The Fantasist's Waltz
2 May
Henning When : No Surrender
3 May
Isy Suttie : Pearl and Dave
3 May
Paul Foot : Still Life
5-6 May
Rebel Is Wicked!
10 May
Big Daddy vs Giant Haystacks
16-19 May
Who's Afraid of Virginia Woolf
24-26 May
And Then There Were None
29 May
Alex Horne - Seven Years In The Bathroom

The Carriageworks Theatre Program June 2011

6 June
Hairy Maclary & Friends
12-14 June
The Trick
13-16 June
The Sound of Music
22-30 June
Promised Land
27-30 June
The Price

The Carriageworks Theatre Program July 2011

4-7 July
Manon
11 July
Can You Dig It?
20-21 July
Cirque du La'fay
29-30 July
The Snail and The Whale
29 July
Jenny Eclair: Eclairious
Leeds Entertainment Theatres Cinemas and What's On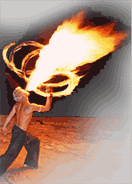 Leeds Theatres
Leeds Cinemas
Other Entertainment & What's On
London West End Shows.

The Carriageworks Theatre
The Carriageworks was officially open to the public on Tuesday 15 November. The opening week's events included the launch of Upstairs@The Carriageworks, a studio theatre based on the top floor of the venue. This space will present the work of semi professional artists often representing challenging and diverse forms of theatre.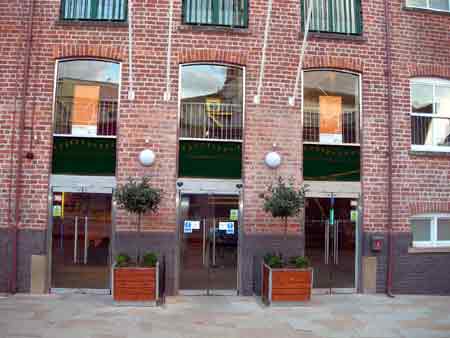 The Carriageworks Theatre main entrance in Millennium Square
The Carriageworks Theatre address & Location
The Carriageworks Theatre
Millennium Square, Leeds
Tel 0113 224 3801
The Carriageworks Theatre,s is located in the Electric press building on the south side Millennium Square between Ha! Ha! Bar and Revolution
A second entrance is via an arcaded courtyard of restaurants and bars off Great George Street. This entrance is the best if being dropped off from a car or Taxi
Car Parks listed in order of nearness
Portland Crescent Car Park, behind the Civic Hall Pay & display
The Light car park, entrance off the right hand side of one way Great George Street onto Dudley Way Long stay
St John's shopping centre, entrance off the right hand side of one way Merrion Street NCP 24 hours Long stay
Transport
Nearest Hotels