Search Leeds & UK Site
View leeds-uk on

Facebook
About Park Resorts Accommodation Park Resort Location Map
List of Park Resorts holiday parks
Ashcroft Coast Barmston Beach Bideford Bay Breydon Water Brynowen California Cliff Camber Sands Carmarthen Bay Cayton Bay Church Point Coopers Beach Cresswell Towers Crimdon Dene Eyemouth Heacham Beach Highfield Kessingland Beach Lower Hyde
Martello Beach Naze Marine Nodes Point Romney Sands Sandy Bay Sandylands Shurland Dale St Margaret's Bay Sunnydale Thorness Bay Ty Mawr Valley Farm Warden Springs Waterside Weeley Bridge Whitley Bay
Park Resorts Caravan & Chalet Holiday Parks
Park Resorts for a wide choice of 37 of Holiday Parks & resorts, where you can enjoy the freedom and flexibility of family self catering holidays. Park resorts have the largest quantity of UK Branded Holiday parks
All parks except Church Point have the following facilities:
Adventure Playground
Entertainment
SK Kids clubs for under 5 year olds
Sparkles Corner Childrens clubs for 5 to 11 year olds
The Mix clubs for 12 to 16 year olds
An indoor pool
An outdoor pool. Except the following Barmston Beach, Church Point, Warden Springs, Weeley Bridge
Sports Resort. Except the following Church Point and Eyemouth
Park Resorts fun filled Parks are found in some of Britain's favourite holiday hotspots from Scotland to the Isle of Wight and from Wales to East Anglia. With an even wider choice than ever before, you're sure to find one to suit you!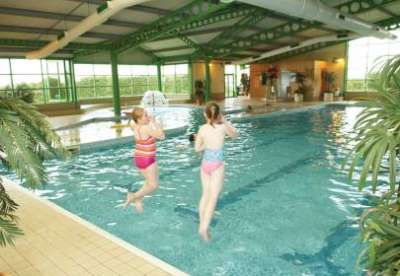 The indoor Pool at the Skipsea Sands Park Resort
Accommodation
Comfortable Accommodation
At Park Resorts we have a comfortable range of quality accommodation at 35 of our Parks so your group can choose a type and style to suit both their personal taste and budget.
We have some comfortable Bronze, Silver and Gold Caravans including Colour TV, Free Bed linen, Free Gas & electricity. These are spacious and available for 6 or 8 sharing two and three bedroom units.
Chalets and Lodges are available in Silver and Bronze categories and provide all the comforts you would expect including Colour TV, Free Bed linen, Free Gas & electricity. Our Silver and Bronze accommodation can be found a selected Parks with both four and six berth available.
Click Banner for
More Information
or to Book

Tent Pitches and Caravan pitches
Tent Pitches and Caravan pitches are available at some Park Resorts holiday parks
List of Park Resorts holiday parks & Locations
Holiday Park name

Description of the holiday park and Location

Photograph

Kent & Sussex

Overlooking the mighty River Thames as it reaches the sea, Ashcroft Coast is well placed to explore many of the scenic and historical attractions of Kent. Cross the new bridge over The Swale to visit the famous Canterbury Cathedral or take a day trip over the channel to France where you can enjoy a fine meal and lots of shopping!

Take a dip in the indoor or outdoor swimming pool, or join in the activities on the All Weather Sports Area. In the evening enjoy a drink in the Waterside Tavern, with great family entertainment at Bank Holidays and during peak weeks. A more relaxing programme is available at other times.


Indoor Pool

Yorkshire

A relaxing Park overlooking miles of sandy beach stretching to nearby Bridlington. The perfect setting for exploring the dramatic coastline and scenic Yorkshire Wolds.

After a busy day exploring, enjoy a meal and a drink in the restaurant. Then it's onto the Sands Tavern for music and cabaret, laughter and dancing, with great family entertainment at Bank Holidays and during peak weeks. A more relaxing programme is available at other times.


Heated Outdoor Fun Pool with Waterslide

Devon

At Bideford Bay, on the north Devon coast, you're close to the picturesque village of Clovelly and the fabulous Blue Flag beach of Westward Ho! With plenty of attractions to visit nearby, you'll be spoilt for choice.

Within the wooded hillside grounds, enjoy a game of tennis or challenge the family to a game of crazy golf. Splash around in the indoor pool or spend a lazy day relaxing by the outdoor pool.

A drink in the Conservatory Bar is a fine way to start the evening. Then on to the Manor House Showbar for family entertainment with cabaret, dancing and exciting shows.


Heated Outdoor Pool with Flume

East Anglia & Lincolnshire

Situated on the edge of The Norfolk Broads, Breydon Water Holiday Park is just a short drive from the beach and the bright lights of Great Yarmouth. From here you can enjoy family fun days out, take scenic trips exploring the local area or stay and enjoy the many Park facilities. The choice is yours.

The Park consists of 2 Village areas just a short walk apart along a country lane.

Yare Village is ideal for entertainment and family fun
Bure Village ideal for a quieter base from which to explore the local Broadland area, with family entertainment and Sparky's Krew Club at Bank Holidays and peak weeks. A more relaxing programme is available at other times.

Guests are welcome to use the various facilities of both villages.


Heated Outdoor Pool
Yare Village

Wales

Brynowen is an ideal base from which to discover this beautiful area of Wales. Enjoy spectacular views across Cardigan Bay, and the River Dover to Cader Idris and the Cambrian Mountains. Nearby Aberystwyth, nestled between hills and beach, boasts a castle, harbour and many Victorian buildings all waiting to be explored.

On the Park we keep the whole family entertained. Enjoy the indoor pool, a game of mini ten pin bowling or crazy golf. When the sun sets over Cardigan Bay, Brynowen lights up with entertainment.

Relax with a drink at the Patio Bar or enjoy music, dancing, competitions and visiting cabaret in the Mountain View Showbar. For fun and action or peace and quiet, Brynowen is the perfect family choice.


Indoor Fun Pool with Flume & Paddling Pool

California Cliffs Holiday Park

East Anglia & Lincolnshire

Close to the bright lights and all the fun of the fair in nearby Great Yarmouth and the picturesque waterside villages of the Norfolk Broads – which can be discovered by car or boat. Closer to the Park, you're just a short walk away from the wide sandy beach.

Have a swim in the indoor pool with conservatory style roof, or venture through to the heated outdoor splash pool with twisting flume. The kids will love the adventure playground and can join in games on the all weather sports court.

In the evening have a drink on the terrace of the Waterside Bar before enjoying a fabulous line up of dazzling entertainment including bands, competitions, shows and cabaret.


Indoor Pool Complex

Kent & Sussex

Camber Sands is a winning Holiday Park for all the family. Adjacent to 7 miles of award winning Blue Flag beach you can explore the scenic Sussex countryside, 1066 country and historic towns such as Rye and Winchelsea. Enjoy the nearby seaside town of Hastings, or enjoy all that the Park has to offer.

You're spoilt for choice with 4 funpools, a whirlpool, sauna, spa bath and solarium. Kids will love the indoor ball pond, plus, of course all the action in Sparky's Krew Club. Teenagers get busy in The Mix programme of activities and the whole family can join in games and challenges on the Multi Sports Court.

Why not start your evening in the NEWLY restyled Boathouse Bar & Restaurant, then make your way to the Starlight Showbar for family fun and entertainment with dancing, discos, glittering shows and visiting cabarets.


4 Heated Indoor Pools

Wales

For a great and lively family holiday come to Carmarthen Bay. You can enjoy the scenic surroundings along the South Wales Coastline or enjoy spectacular views over the Gwendraeth estuary. Further afield, visit Carmarthen, the oldest town in Wales, where Merlin was said to have lived

Splash around in the indoor pool where you can relax in the spa bath or have fun on the water flume. Challenge the family to a game of crazy golf, or join in the fun and games.

Enjoy a delicious meal in the Boathouse Restaurant before a fantastic line up of entertainment. Fancy a quiet drink? Then sit outside on the Boathouse Bar terrace and watch the sunset over the estuary.


Indoor Fun Pool with Flume & Spa Bath

Yorkshire

A lively Park allowing you to enjoy the best that Yorkshire has to offer. Close to the seaside town of Scarborough, Cayton Bay provides the perfect base for you to explore the many local attractions. There's sure to be something for everyone.

Splash around in the indoor Waterworld Fun Pool with fountains, waterjets and a slide. Outside, join in the fun and games on the All Weather Sports Court or enjoy a game of crazy golf with the family.

Start the evening with a delicious meal in the Boathouse Restaurant, and then it's on to the Oasis Showbar for a dazzling line up of entertainment with visiting stars, disco, cabaret and plenty for the whole family to join in with.


Waterworld Fun Pool with Flume

North East

On a scenic headland, Church Point is the ideal place to relax and unwind. Enjoy coastal walks, the sandy beach or sit and admire the views across the bay.

Just a short 3 mile drive through Newbiggin by the Sea brings you to Sandy Bay where you can make use of the Park facilities and enjoy the entertainment, should you wish. Alternatively, stroll into Newbiggin for shops, takeaways and pubs.


Church Point

Essex

Cross the tidal causeway to leafy Mersea Island for a gentler pace of life. Coopers Beach Holiday Park in East Mersea has fantastic coastal frontage, with views across the Blackwater estuary out to sea.

Top up your tan beside the Park's heated outdoor pool. The Adventure Playground is sure to keep the kids busy for hours with plenty to climb, slide and swing from it's a great way to tire them out! In the evening enjoy a meal on the Waterside Terrace and soak up the views, then take it easy in the NEWLY Waterside Tavern as you plan your next day out.


Heated Outdoor Pool

North East

Cresswell lies at the southern end of the wide sandy sweep of Druridge Bay, a famous spot for bird watching. Lying within the Park, the 12th century tower can be reached on a walk through the woods from where you can take in the splendid coastal views

On the Park, enjoy the outdoor pool, or laze on the suntrap patio. And in the evening enjoy a drink in the bar, with great family entertainment at Bank Holidays and during peak weeks. A more relaxing programme is available at other times.


Heated Outdoor Pool with Sun Terrace

North East

Once famous as a holiday pleasure garden, the Dene is now being restored to its former glory

From the Park, take a walk along the Durham Heritage Coast and enjoy the stunning views or venture inland to the rugged beauty of the upper Tees Valley and marvel at High Force waterfalls. The more energetic can follow the Pennine way to the dramatic falls of Cauldron Snout. In the evening, return to the Park for a well earned drink in the Ocean Bar.


Quiet & Relaxing Park

Scotland

Situated on a spectacular headland, the Park overlooks a wide sweep of sandy beach to the fishing port and small Georgian town of Eyemouth. In the other direction, a craggy beach, ideal for fishing, is followed by spectacular coastal views to St Abbs Head.

Enjoy free use of the local indoor swimming pool just a short walk down to the town. In the evening, relax with a drink in the Killies Lounge as you plan where to go and what to see the following day. At weekends, enjoy occasional visiting cabaret in the Driftwood Complex.


Outdoor Play Area

East Anglia & Lincolnshire

Set on the coast between the seaside resort of Hunstanton and the Georgian market town of King's Lynn, the extensive beach is the only one in Norfolk that is West facing. Enjoy the wide open skies and views across the Wash from Heacham Beach. When you're looking for a relaxing holiday, and the children want some action, this Park fits the bill!

The family will love the indoor fun pool or adventure playground for the children. In the evening, enjoy a drink in the bar with great family entertainment at Bank Holidays and during peak weeks. A more relaxing bar entertainment programme is available at other times.


Indoor Pool

Essex

Within easy reach of Clacton on Sea's golden beaches, the famous Victorian pier, amusements and bustling, colourful promenades. With many exciting attractions nearby, plus a great line up of sparkling entertainment on Park, Highfield is the ideal choice for a lively family holiday.

On the Park, the spectacular NEW conservatory style indoor swimming pool complex is the perfect way to kick off your day. Whizz down the 200ft water chute or top up your tan by the outside pool. Kids will also love the adventure playground, plus all the action in Sparky's Krew Club.

At night, the Grange Entertainment Centre is the place for fabulous family entertainment with a superb line up of spectacular shows, dancing, fun and games.


200ft Water Chute

Kessingland Beach Holiday Park

East Anglia & Lincolnshire

A lively Park situated between Lowestoft and the nearby seaside resort of Southwold, providing you with an ideal base to explore Suffolk. Just a short walk along the Heritage Coast brings you to Blue Flag Beaches. There's everything you could want for a fun filled family holiday.

Come to Kessingland Beach for a fun filled holiday, with a choice of two swimming pools, adventure playground, tennis courts and ten pin bowling. Enjoy lunch and soak up the sun on the decking patio at the Boathouse Bar before challenging the family to the sports and water activities on offer.

In the evening, relax with a drink and be entertained in the Beachside Showbar with a fantastic line up of entertainment.


Heated Outdoor Fun Pool

Isle of White

Landguard Park Resort has accomodatiomn in either wooden built lodges backed by rows of trees, or comfortoble caravans

The park has both indoor and outdoor swimming pools

Isle of White

Lower Hyde, on the outskirts of Shanklin is close to the sandy, sunshine beaches of South East Wight and the fun packed attractions for all the family. Feeling energetic? Then there's 65 miles of coastal paths waiting to the walked and explored.

Take a dip in the indoor spa pool, or enjoy the non stop fun in the outdoor pool with flume. Relax on the sun trap patio, or for the more active join in the fun on the Sports Court or take the kids to the adventure playground.

In the evening, sit back and enjoy the cabaret, shows, competitions and dancing in Squires Showbar, or have a drink in Hudson's Bar.


Heated Outdoor Fun Pool with Flume

Martello Beach Holiday Park Formerly 'Tower Holiday Park'

Essex

From the Park you have direct access on to the wide sandy beach that stretches for 7 uninterrupted miles along the Essex Sunshine Coast. Play on it, swim from it or stroll along it, this beach is ideal for all ages.

On the Park, the sheltered outdoor pool is great for a dip and for topping up the tan on the poolside terrace. Or take advantage of free use of the local indoor pool nearby.

In the evening, come to the NEWLY restyled East Beach Showbar for great family entertainment at Bank Holidays and during peak weeks. A more relaxing programme is available at other times.


Direct access on to sandy beach

Essex

Come to Walton on the Naze, on the Essex Sunshine Coast for the beautiful golden sandy beaches, a pier and seaside shops. Explore the tidal inlets, drive inland to famous landmarks painted by Constable, such as Flatford Mill and 'The Hay Wain' or visit nearby Colchester with its famous Zoo and Castle.

Naze Marine offers a family outdoor pool complex with children's splash pool and poolside Ocean Café Bar. Or venture off the Park for nearby fishing, sea fishing, golf and horse riding.

The evening entertainment gets off to a fine start with Sparky's Krew fun for all the family. Then join in with disco, dancing, games and competitions, or sit back and enjoy the sparkling shows and visiting cabarets in the NEWLY restyled Marine Park Showbar.


Heated Outdoor Pool

Isle of White

Overlooking Bembridge Bay, in a spectacular position, Nodes Point is set in 65 acres of parkland running down to the beach. From here, you can explore miles of scenic coastline including nearby Sandown, just a short drive away.

The indoor pool with waterslide will provide hours of fun for the family and the adventure playground will be a big hit too!

Try out new sporting activities or relax with a quiet drink and admire the view from the Harbour Bar.

In the evening, sit back and enjoy the sparkling entertainment in the Celebrity Showbar. A perfect end to your day.


Indoor Fun Pool with Waterslide

Kent & Sussex

Opposite one of Kent's finest sandy beaches, Romney Sands is in an area surrounded by the mysterious Romney Marshes, past haunt of smugglers. Take a trip along the Romney, Hythe & Dymchurch Miniature Railway and enjoy the coastal views. The Park even has its very own station!

Enjoy a game of tennis, join the action on the Sports Court, or take a dip in the indoor pool. The choice is yours. Kids will be happy in Sparky's Krew Club with Parachute Games, Clown Academy, quizzes, games and competitions.

And at night, everyone heads for Celebrities Club for a fabulous line up of dancing, shows and visiting cabarets – a great night out for all the family! For a quieter drink, relax in the NEWLY restyled Tavern Bar.


View of the Park

North East

Enjoy spectacular cliff top views of the sandy beach, accessible from the Park, or take a stroll along the nearby River Wansbeck. Alternatively a drive north along the coast brings you to sandy beaches and ancient castles under wide open skies.

Instead of a busy day exploring, enjoy the Park's beach, a swim in the indoor pool, or a walk around the Koi Carp Lake while the kids are having fun in Sparky's Krew Club.

After a delicious meal in the NEW Boathouse Restaurant, it's on to the Beach Showbar for games and quizzes, visiting cabaret, spectacular shows and dancing.

For a quieter drink and a chat, relax in the NEW Boathouse Bar.


Heated Indoor Pool

Yorkshire

Skipsea Sands Holiday Park has only a narrow country lane seperating it from the low cliffs and the sandy beach.

The park has plenty of facilities to keep you entertained or fit.

Indoor Swimming pool that also has water features and infatables.
The sports hall has football, roller blading or badminton
A bowling alley for 10 pin bowling
Indoor gym , fitness suite, sauna & steam room
Adventure Playground for kids
2 bars The Sportsman Bar & The Pavillion Bar
Sands Diner Restaurant forwith Breakfast, Lunch, Diner & Kids menus


Indoor pool

Scotland

Sandylands is close to the famous sandy beaches of the Ayrshire coast. From here you can explore the scenic glens and magnificent mountains of northwest Ayrshire, take a boat trip to the Isle of Arran or stroll into the centre of the popular holiday resort of nearby Saltcoats.

Enjoy a dip in the heated indoor pool, or take a walk to the nearby sandy beach. Kids will love Sparky's Krew Club, where they can take part in Clown Academy, Mini Beast Safari, Fancy Dress, puzzles, quizzes and games.

In the evening, head for the Beacon Family Club for a great line up of fun and family entertainment, with dancing shows, visiting bands and exciting cabarets.


Indoor Heated Pool

Kent & Sussex

Shurland Dale, near Eastchurch on the Isle of Sheppey, provides a fantastic base for exploring the beautiful 'Garden of England', as Kent is known, now easily reached across the bridge. You'll be spoilt for choice with stately homes, a famous brewery and magnificent gardens – perfect days out for the whole family.

On Park, splash around in the indoor pool or relax over a drink in the Boathouse Tavern. Look forward to great family entertainment at Bank Holidays and during peak weeks, with a more relaxing programme available at other times of the year.


Heated Indoor Pool

St Margaret's Bay Holiday Park

Kent & Sussex

Nestling on the famous white cliffs of Dover, St Margaret's Bay is set in wonderfully manicured grounds. Explore the shops and castle of nearby Dover, travel inland to explore the picturesque Weald of Kent, or take a day trip to Calais for great food and shopping.

Come to St Margaret's Bay and enjoy all that this beautifully landscaped Park has to offer. A 25 metre pool, spa pool, well equipped gym, sauna and solarium makes this the ideal place for relaxation and pampering.

In the evening enjoy a delicious meal in the Celebrations Restaurant followed by family fun and laughter in the Langdon Tavern with a great line up of entertainment at Bank Holidays and peak weeks, and a more relaxing programme at all other times of the year.


25 metre Indoor Pool

East Anglia & Lincolnshire

The wide, open seas and skies are all around you at Sunnydale on the Lincolnshire coast between the seaside resorts of Cleethorpes and Mablethorpe.

On the Park take part in the leisure programmes on offer or splash about in the indoor pool. The Park's own fishing lake is ideal for hooking a catch or two.

In the evening enjoy a light meal in the Windmill Lounge Bar and during peak weeks and Bank Holidays there's great family entertainment, with more relaxing programmes at other times of the year.


Well stocked coarse fishing pond

Isle of White

Located in a rural setting amidst woodland running down to the sea, Thorness Bay is a great base for visiting the many attractions of West Wight, the scenic beaches and nearby Cowes.

The family will love the indoor pool, the fun and games on the All Weather Sports Court and the adventure playground for the kids.

Start the evening with a delicious meal in the Lodge Bar, before enjoying a fantastic line up of dazzling entertainment.

If you prefer a quieter scene, then relax with a drink on the terrace and watch the boats on the Solent.


Adventure Playground

Wales

From coast to countryside, there's something for everyone at this lively resort. From the sandy beaches, excitement and fun filled attractions of nearby Rhyl, to the craggy mountains and deep valleys of beautiful Welsh scenery.

The family will love the indoor pool with flume, or the team games and challenges on the All Weather Sports Court. Enjoy a game of pool next to the Rendezvous Diner with Sparky's Krew always on hand to keep the kids amused.

In the evening, sit back and enjoy our sparkling line up of entertainment in the Sands Showbar after a delicious meal in the Farm House Inn.


Indoor Fun Pool with Flume

Essex

Valley Farm is perfectly positioned on the famous Essex Sunshine Coast, close to the vibrant resort of Clacton on Sea with its sandy beach, pier and well maintained seafront gardens. With plenty of attractions to choose from, there's something for all the family.

For family fun, take a dip in the indoor or outdoor pool, where you can splash around or relax outside on the patio area and soak up the sun. Join in our Sports and Water Resorts or have a go on the Crazy Golf – the kids will love the adventure playground too!

In the evening, enjoy a drink in the Sports Bar or a family meal in the Food Court. Then it's onto the Valleyside Showbar for a dazzling line up of visiting cabaret, dancing and laughter.


Indoor Pool with Toddlers Pool

Kent & Sussex

Surrounded by picturesque countryside and woodland, Warden Springs has stunning views out to sea. From here you can walk over the hill to the nearby seaside town of Leysdown. Further afield, there's exploring to be done with castles, museums and the beautiful countryside of Kent all easily accessible across the new bridge over The Swale.

On Park splash around in the heated outdoor pool while the kids will enjoy being entertained by Sparky and his Krew. At Bank Holidays and peak weeks head to the Waterside Tavern to be entertained by visiting cabaret, singing, dancing and fun for all the family. A more relaxing programme is available at other times of the year.


Heated Outdoor Pool

Essex

Situated by the River Blackwater with fine estuary views towards Mersea Island, this quiet relaxing Park has something for everyone with various attractions, nature reserves and footpaths nearby. Take a trip to the exciting Adventure Island Theme Park at Southend On Sea, or visit the attractive riverside town of Maldon to shop till you drop or stroll through Promenade Park and take in the magnificent views.

This quiet, relaxing Park with leafy, tree lined avenues is an ideal base for a relaxing holiday, boasting great facilities that include an indoor pool, sauna and jacuzzi. Unwind with a drink and enjoy the friendly local feel in the Waterside Country Club.


Indoor Pool

Essex

This beautifully landscaped Park is laid out around a willow surrounded fishing lake. Enjoy the peace of the Park, or take a short car ride or train trip to the bustling centre of Clacton, for the pier, beach and use of an indoor swimming pool.

On the Park, enjoy a dip in the outdoor pool or relax in the adjacent beer garden. In the evening, visit the Lakeside Tavern for a bite to eat and a drink to round off the day. During peak weeks and Bank Holidays you can take in a great line up of family entertainment, with a more relaxing programme available at other times of the year.


Adventure Playground

North East

Whitley Bay is famous for its long sandy beach stretching out to the well known landmark of St Mary's Lighthouse. A stroll along the promenade brings you to the seafront with cafes, bars and restaurants. Alternatively, take a drive to the vibrant city of Newcastle.

On the Park, the whole family will enjoy the indoor pool and the variety of Sports and Water Resorts activities on offer. Kids will love Sparky's Krew Club – Clown Academy, Mini Beast Safari, Treasure Hunt, quizzes, puzzles and party dances! With so much to do they won't want to leave!

In the evening, it's on to the NEW Lighthouse Entertainment Centre. Stroll through the NEW Amusement Centre to the NEW Boathouse Restaurant for a delicious family meal. Then take in a sparkling line up of family shows, dancing, disco and fabulous visiting cabarets in the Lighthouse Showbar.


Heated Indoor Pool

Yorkshire

The coastal countryside around the small town of Withernsea is hard to beat. The town contains much of interest, including the Withernsea lighthouse and museum. From here you are well placed to visit Spurn Head, an isolated peninsula jutting out into the North Sea, and home to many seabirds.

Or take a trip to Fort Paull and experience historical scenes discovered in the underground labyrinths. Also take advantage of free use of the local indoor swimming pool nearby.


Adventure Playground