Search Leeds & UK Site
View leeds-uk on

Facebook
Premier Inn Hotels
Premier Inn is the biggest hotel chain in the UkK with over 500 hotels located throughout the country. Premier Inn is liked because of the good value that they over and it is an extremly popular hotel chain especially with the current Lenny Henry advert on the TV.
Click banner to book with Premier Inn

Restaurants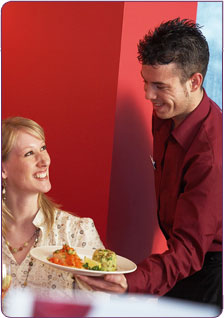 All Premier Inns have a restaurant that serves quick snacks orrelaxing dinners and tasty meal dishes that will temp your taste buds. Both food and drinks are at reasonable prices
Breakfasts
Premier Inn offer 3 types of breakfast and pricesare inaddition to your overnight stay..
Grab & Go breakfast. For those in a hurry the Grab & Go breakfast allows you to have a baked croissant with coffee or tea then off to your business meeting or city tour etc.
Continental breakfast. A typical all you could want from our Continental Breakfast Selection, of cereals and porridge, baked croissants and muffins, fresh fruit salad and yoghurts; plus your choice of coffee, tea and fruit juice.
Premier breakfast. Eat as much as you like! Our cooked breakfast range boasts our new premium pork sausages, seasoned with nutmeg and sage; vegetarian sausages made with sautéed leek; plus your choice of freshly scrambled, fried, poached or boiled eggs, back bacon, Heinz baked beans, tomatoes, mushrooms, and much, much more. If this isn't enough, you can also choose anything from our continental breakfast selection as well.