Search Leeds & UK Site
View leeds-uk on

Facebook
Related Pages
Newcastle International airport information and guide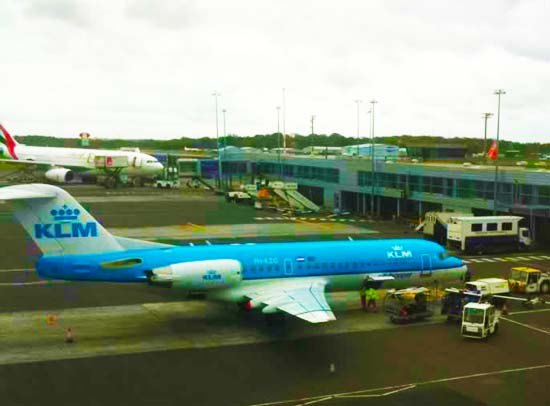 KLM plane at Newcastle Airport
Photo by indigoprime
Location of Newcastle airport
Newcastle Airport is approximately 6 miles (10k) North West of the City Centre of Newcastle on the A696 at Woolsington and is clearly signposted all the way.
Address
Newcastle International Airport Ltd.,
Woolsington,
Newcastle upon Tyne
NE13 8B
Book a Flight from Newcastle Airport
Around the Airport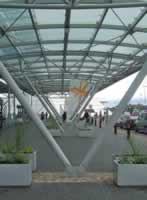 Newcastle Airport Terminal exterior
Photo by foilman
Executive Lounges
Cheviot Executive Lounge
If you do not have a suitable entrance card you can book with Holidayextras
Newcastle airport hotels
Information location and photographs fort Newcastle airport hotels and Newcastle city centre hotels
Flight and airline information for Newcastle airport
Newcastle flight information Search for a flight
Newcastle Airport Bars, cafes & Restaurants
There are numerous bars, cafes & restaurants in the airport.
Getting to Newcastle airport
If travelling by public transport from outside the area we recomend rail travel to Newcastle Central Rail station or National Coach or bus services to bus stops at or near. Newcastle Central Rail station
Then transfer to the Metro light railway to the airport
Newcastle Airport Bus Stops
Airport Bus Stops are on the road just outside the Airport Terminal building
Local Buses
Bus Services X77 X78 & X79 from Central Newcastle Eldon Square
During the day there is a half hourly bus service between the Airport and in Newcastle City Centre Eldon Square
There are additional bus service from the area to the airport
Further information is available from the Public Transport Journey planner
Metro Light railway Tyne & Wear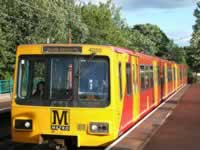 Newcastle Metro Train
Photo by LHOON
The Tyne & Wear light railway system is known as The Metro and runs mainly overground but underground in Newcastle upon Tyne and other town / city centres
The Metro is the most popular public transport for travel to Newcastle airport
Airport Central Newcastle, Newcastle Bus & Rail Stations & Beyond
Trains run from approximatly 05:30 to 23:30 between Airport & Bus Station
Trains run approximatly every 12 15 minutes with a jouney time of 20 minutes from Newcastle centre to the airport.
The Tyne & Wear Metro provides a fast and frequent light rail link from Newcastle Airport to the City Centre, Central Station and throughout Tyneside.
The Metro network has 90 stations
Metro information Telephone 0870 608 2608.
METRO a regular train service operates from Newcastle Central Station to the Airport, the journey taking approx. 25 minutes.
Outward journey: Mon Sat 06.20 23.27 Sun 06.59 23.27
Return journey: Mon Sat 05.19 23.53 Sun 06.18 23.53
Tel 0870 608 2 608 (Traveline) for more information.
Download a Metro Map PDF format
Download a smaller Metro Map & Timetable from airport PDF format
Download a smaller Metro Map & Timetable from Central Station PDF format
Platform 2 for airport. Use the 'green' times for airport
Nearest Railway Station Rail and Train Connections
Newcastle Airport Metro Train Station
Is located near to the Terminal Building andconnected to it by a covered walk way. Trais run to Central Newcastle with stops at
Newcastle Metro Central Light Railway Station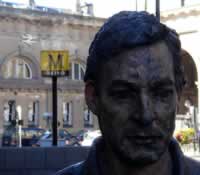 Metro Central Station in front of
Newcastle Station
Photo by tompagenet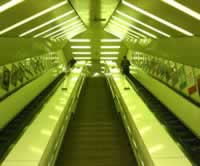 Metro Central Station Escalator
Photo by 
Thunderchild7
Is located next to the National Newcastle Railway Station
Newcastle Station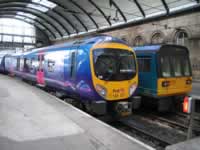 Newcastle Station
Photo by Paul Robertson
Located in Neville Street, just south of the city centre and north of the river Tyne. The station is on the National rail network with stations throughout the UK.
Next to the Raiway station is the Underground Metro light rail network with a line 2 to Newcastle Airport
Rail Tickets & Timetables
Rail Transport Time tables and secure online booking

Use the Metro or Taxi to get from the station to the airport
Allow approximatly 9 minutes to walk from Newcastle Central Station to the Metro underground station.
National Coach Connections
National Bus / Coach Services to Newcastle City Centre
Megabus outside Railway Station
The Megabus stop is in outside the Newcastle Rail Station in Neville Street Stand 96
Transfer to the Metro
National Express
Newcastle Coach Station
The National Express stop is at the Newcastle Coach Station , St James Boulevard GB which is at the junction of Churchill Street / Westmorland Lane.
Transfer to the Metro for Newcastle Airport at the Central Railway Station 400 metres away from the coach station, for Newcastle Airport.