Search Leeds & UK Site
View leeds-uk on

Facebook
Blackpool Main Railway Station
Blackpool North Train Station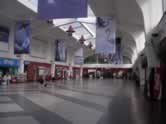 Blackpool North Railway Station
photo by Terry Wha
Blackpool North Train Station is Blackpool's main station with around 17,000 passengers a year and has 3 major train routes comming into the station all come through Preston with major North / South Route connections.
Red Route. (Top route) Preston, Halifax, Leeds, York, Hull and other smaller stations. Connections to Yorkshire and North East cities and towns
Blue Route. (Middle route) Preston, Bolton, Manchester, Manchester Airport, Connections to Lancashire and the South cities and towns
Green Route. (Bottom route) Preston, Wigan North Western, Liverpool
is the second busiest station after the main station Blackpool North with around 1.7 Million passengers a year
Tthere are several large car parks near to the station
Location
Blackpool North Train Station is located at the junction of Talbot Road & High Street
The bus coach station is approximatly 200 metres south, also in Talbot Road
The sea front near Talbot Square and North pier is approximatly 800 kilometres
Blackpool Secondary Railway Stations
The following 3 stations are far smaller statins and on a seperate single line local route totally isolated from the main Blackpool North Station. All 4 routes go to Preston. These stations are useful if they are near where you want to be in Blackpool, trains are far less frequent.
Blackpool South Train Station

This station is the end of the Preston Squires Gate & Pleasure Beach line
Blackpool South Train Station is located In Waterloo Road near the junction of Garden Terrace and 500 metres from the Promenade.
The nearest rail station for the South Pier and the Sandcastle Waterpark
Blackpool Pleasure Beach Train Station

Blackpool Pleasure Beach Train Station is located In Ventnor Road near the junction of Burlington Rd and 400 metres from the Promenade.
The nearest rail station for the Pleasure Beach
Blackpool Squires Gate Train Station

Blackpool Squires Gate Train Station station is located In Squires Gate Lane, near Blackpool Airport, 5 minutes walk,
Squires Gate Train Station is the second busiest station after the main station Blackpool North with around 17,000 passengers a year
Blackpool Airport
Blackpool Airport is located just to the South of the Town of Blackpool in Squires Gate. It is just inland of the Pontins Holiday Park More information Blackpool Airport
Blackpool Public Transport
Blackpool Coach & Bus Station
Local Bus & Tram Services
Download a PDF Blackpool Area Bus Route Map
National Coach Services
International Coach Services
Eurolines also part of National Express
Blackpool Trams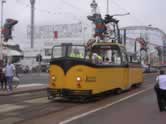 Blackpool Tram
photo by Terry Wha
Until recently Blackpool has been the only UK town to retain a tram system, and has been proved right as many cities would love to reinstal there tram systems that they desroyed years ago.
Blackpool trams have operated since 1885 and there is approximatly 12 miles of tram tracks that run from Squire Gates to Fleetwood.
During Blackpool Illuminations many of the trams are decorated with lights.
Some trams still running are from the 1930's but the majority are more modern.
Tram Types; There are:

Single Deck Trams
Double Deck Trams
Open Top Observation Trams
Illuminated Trams during Blackpool Illumination
Tourist Information Offices
Blackpool has 2 Tourist Information Offices:
On the Central Promenade opposite Blackpool Tower
Blackpool International Airport.
Car Park Locations
Hounds Hill Multi Story Access from: Coronation St · Parking Type: Pay & Display · Spaces: 750 · CCTV: NO
Talbot Road Multi Story Access from: Deansgate · Parking Type: Pay & Display · Spaces: 740 · CCTV: NO
West Street Multi Story Access from: West Street · Parking Type: Pay & Display · Spaces: 241 · CCTV: Yes
Chapel Street Multi Story Access from: Chapel Street · Parking Type: Pay & Display · Spaces: 390 · CCTV: Yes
Wilkinson Multi Story Access from: Dickson Road · Parking Type: Pay on Exit · Spaces: 500 · CCTV: Yes
Central Access from: Central Dr/Seaside Way · Parking Type: Pay & Display · Spaces: 825 · CCTV: Yes
East Topping Street Access from: East Topping Street · Parking Type: Pay & Display · Spaces: 101 · CCTV: No
Bank Street Access from: Bank St · Parking Type: Pay & Display · Spaces: 300 · CCTV: No
Sheppard Street NCP Access from: Sheppard St · Parking Type: Pay on Exit · Spaces: 160 · CCTV: No
Queen Street Access from: Queen St · Parking Type: Pay & Display · Spaces: 40 · CCTV: No
Bonny Street Access from: Queen St · Parking Type: Pay & Display · Spaces: 141 · CCTV: No
Seed Street Access from: Seed St / Talbot Rd · Parking Type: Pay & Display · Spaces: 210 · CCTV: No
Swainson Street Access from: Swainson St / Talbot Rd · Parking Type: Pay & Display · Spaces: 141 · CCTV: No

Information given is subject to change
Blackpool Description
Without any doubt Blackpool is the main Holiday resort and entertainment centre in the north of England. Made famous by the Blackpool Tower, the Pleasure Beach, its 3 piers and the Golden Mile.
Hop on Hop off Bus Blackpool's sightseeing tourist bus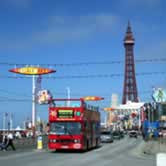 Sightseeing Tours Blackpool
Blackpool Tourist Sightseeing Bus
You can buy a 24 hour ticket for the Blackpool Hop on Hop off open topped double decker Blackpool Tour bus. Buses are approximately every half hour and stop at most of Blackpool's attractions.
Please note that you can opHopon or Hop off at the well sighted special bus stops.
More details and / or BookBlackpool Hop on Hop off Tour bus
Select required payment currency on the top line of the page
Attractions and Theatres
Blackpool Tower, Circus and Ballroom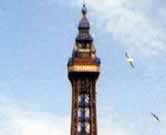 Tower View platforms at the top of the Tower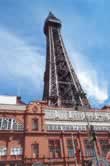 Blackpool Tower and Tower building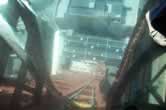 Blackpool Tower Walk of faith
photo by HomeParking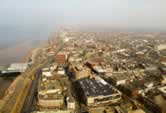 View from Blackpool Tower
photo by llamnudds
The Tower, opened in 1894 to the public during the height of the Industrial revolution, it looms over the town and can be seen from miles away as you approach Blackpool by train or road and is Blackpools symbol.
The Blackpool tower building is more than a tower with spectacular views, the base building also houses an aquarium, ballroom, circus, Jurassic walk,and many more spectacular shows and events
Now open the brand new JUNGLE JIMS TOWERING ADVENTURE a themed "Lost City" where the kids can use the various climbing swinging and sliding adventurous contraptions during there quest to find hidden treasure. In busy times a time limit of 1 hour may be imposed.
Normally it is cheaper to buy tickets in advance than buying at the door. It is also cheaper in June and the first week or 10 later in the high season of July and August. Occasionally the Tower does special low door prices, I suspect at quiet times.
Tower Attractions
Tower View platforms
Admire the view from the platforms on the tower top reached by large lifts. Note The Tower lift closes in high winds.
On a clear day you can see North Wales and the Lake district as well as a rooftop view of Blackpool.


The Walk of Faith
Also on the Tower Top is the Walk of Faith. Are you brave enough to walk over a glass floor section with a drop of 380 feet below. The glass is 2 inches thick but the mind works overtime that it will it crack?


Tower Circus.
The Tower Circus is as well known as the Tower itself. Built within the 4 giant legs of the Tower it can hold a massive audience of 1600 people.
Most shows are the Circus but Magic shows, wrestling, Circus skill workshops and other events are also shown
The number of shows per day varies usually 2 or 3 but in peak season there are sometimes 4.
The marvelous design of the Circus ring allows the floor to sink on hydraulic rams and filled with water all done within 1 minute.


Tower Ballroom. Now a days there are very few ballrooms left standing that maintain the beautiful Victorian opulence that is the Tower Ballroom. Enjoy a twirl on the dance floor, enjoy the beauty of its balconies, stage and famous Wurlitzer Organ that appears through the stage floor.
Various shows are performed in the ballroom by the organ, the Tower Big Band, top quality comedians and singing groups or individuals.


Jurassic Walk & 3D Cinema


Tower Aquarium See beautiful highly coloured tropical fish and almost invisible sea horses amongst the dozens of fish species held in purpose built tanks.
Food
The Tower has a
Restaurant serving breakfasts, snacks, burgers,, roast and main meals, hot drinks and alcoholic and non alcoholic cold drinks
Tower Coffee shop for coffee , tea and snacks
Bickerstaffe buffet menu of tasty pizza, fresh pasta and salads
The Tower normally open at 10 am.
Location
On the Sea front in Central Blackpool, you can't miss it just look up.
Hop on Hop off bus stops at the Tower
See the location of Blackpool Tower on our Google Interactive Blackpool Map
Illuminations also referred to as Blackpool Lights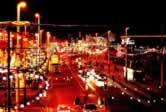 Blackpool Lights
photo by Tom Holland

Blackpool Lights
photo by daveredfern89
Blackpool Illuminations are well known as the best free light illuminations in the World bringing a spectacle of colour to September & October nights and extending the Blackpool main holiday season by just over a 2 months.
To view the lights you can that stretch for 6 miles along the sea front you can drive along the sea front road by car or coach tour, but better ways are to ride on one of the open topped trams, take a horse drawn carriage or wrap up well and take a long stroll.
Central Pier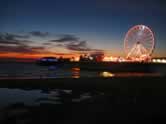 Central Pier Big Wheel
photo by dpicker
Legends Showbar
Big Wheel with stunning view of Blackpool fom the top which is over 100 feet high.
Amusement arcades
Amusement for kids
Shops
See the location of Central Pier on our Google Interactive Blackpool Map
Coral Island Family entertainment centre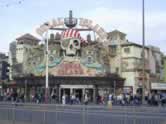 Coral Island
photo by Teckie Kev
Coral Island has a pirate themed frontage and is a large amusment arcade suitable for all ages.
See the location of Coral Island on our Google Interactive Blackpool Map
Blackpool Zoo & Dinosaur Exibit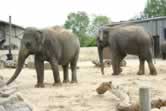 Blackpool Zoo Elephants
photo by sdownes1972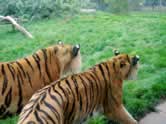 Blackpool Zoo Tigers
photo by Paul Livingstone
There are over 1500 animals from all over the world in this award winning Zoo. The popular animals include elephants, gorillas, lions and tigers
Opens every day except Christmas Day at 10 am.
The Dinosaur section has 30 full sized models of Dinosaurs that roamed the earth Millions of years ago. The models are set in beautiful landscaped gardens.
The Blackpool Zoo is located near Stanley Park and the Model Village
Hop on Hop off bus stops at the Blackpool Zoo
See the location of Blackpool zoo on our Google Interactive Blackpool Map
Funny Girls
Drag - Cabaret - Show Bar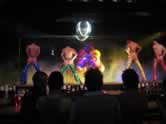 Funny Girls
photo by dissolve
Funny Girls is the home of Top entertainment from some of the best drag artists in the country, backed by a team of dancers who all give a unique entertainment experience that should not be missed..
Funny Girls, 5 Dickson Road, Blackpool, Lancashire, FY1 2AX
Telephone: 0870 350 FUNN (3866)
Golden Mile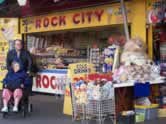 Rock City Stall Golden Mile
photo by Jon's pics
Rock is a sugary stick shape sweet with a name usually Blackpool running full length along it's length
Blackpool's Golden Mile is the stretch of the central promenade running south from the Tower towards the Pleasure Beach for about 500 metres. It is crammed full of Amusement arcades with slot machines and rides, fast food outlets, candy floss stalls, icecream stalls, gift and tourist trinket shops, and accommodation.
This is the place for fun lovers to buy there saucy T shirts, kiss me quick hats and the latest tacky fun gear.
This central location is the most popular area of Blackpool's sea fron and a walk along appears to be a must for both holiday makers and day trippers.
Grand Theatre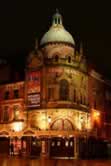 Grand Theatre
The 1100 seat Grand Theatre offers a wide selection of shows. The theatre also holds ghost and theatre tours.
The Grand Theatre, 33 Church Street, Blackpool, Lancashire, FY1 1HT
Great Promenade Art Show
The Great Promenade Art Show uplifts Blackpool with some class and culture, a total change from the usual tourist tat that Blackpool is so well known for..
This exibition of commissioned work of art by international artists are scattered along the South Shore between Squires Gate to and Sandcastle Waterpark
Ice Arena
The Ice Arena is located in Blackpool Pleasure Beach and the place to see spectacular and dramatic shows on Ice to November. Shows at 7:30 in the evening or a shorter matinee show at 2:30.
At other times there are public ice skating, ice skating tuition and training in both the Ice Arena and the smaller Arosa Ice Rink.
Louis Tussaud's Waxworks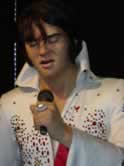 Louis Tussaud Waxworks
photo by
publicinsomniac
Louis Tussaud's Waxworks is Blackpool's oldest attraction with wax figures of famous stars of sport stage and screen.
In the basement Chamber of Horrors you will find the infamous villains and murderers.
Open Daily from 10am Last admission 6pm
Louis Tussaud's Waxworks, 89 Promenade, Blackpool, Lancashire, FY1 5AA
Marton Mere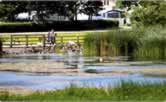 Marton Mere
Marton Mere is Blackpools local Nature Reserve located in a tranquil area on the edge of Blackpool. The reserve is an area of red beds, open water, scubland and grassland, and is famous for it's natual wildlife with abundant dragonflies, bats, butterflies and many other land and water animals.
In Spring and Autumn it is a hive of activity because it is used by migratory birds many are rare visitors.
Marton Mere Located approximatly 3 miles inland almost due East of Blackpools Central Pier
Hop on Hop off bus stops at Marton Mer
Model Village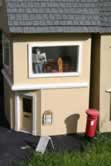 Model village
photo by Rooney
The Blackpool Model Village is a fascinating award winning attraction, located close to Stanley Park and occupying two and a half acres of beautiful gardens full of handcrafted models that make up the model village with lighthouse, castle, prison, airport, planes, canal and canal barges, church, watermill, windmill, scout camp and more.
Hop on Hop off bus stops at the Model Villag
North Pier
The North pier which opened in 1863 has a more tradional look to it compared to the other 2 piers
North Pier Theatre
variety of very well know artists play at this 1500 seat theatre


Carousel bar & Merrie England bar
Have a drink or hot & cold snacks in the Carousel bar located roughly 250 metres along the pier with great views of Blackpool from either the indoor conservatory bar or from the outdoor Victorian sun terrace.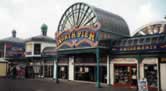 North Pier


North Pier Theatre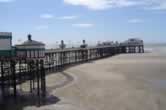 North Pier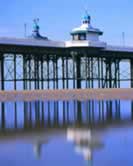 North Pier Kiosks
North Pier Photos by dpicker
Odean 10 Screen Cinema
The Odean Cinema is a 10 screan multiplex venue located at Festival Park.
Other Facilities on Festival Park include McDonalds, Frankie & Benny's, The Swift Hound pub & Bannatyne's Health Club.
Address: Odeon Blackpool, Blackpool, Rigby Road, Lancs. FY1 5EP
Blackpool Pleasure Beach
Number 1 Attraction
Full details on our Blackpool Pleasure Beach page
Ripleys Believe It Or Not
Sandcastle Waterpark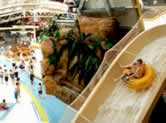 Sandcastle Waterpark Master blaster
World indoor record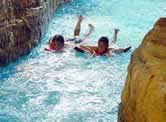 Sandcastle Ushicushi Lazy river ride
Sandcastle is an indoor Waterpark with 18 rides or attractions for visitors including the treetops Snack Shack and the Bongo Bongo Burger Shack if you become hungry.
The Masterblaster ride is the world's longest indoor rollercoaster style waterslide
What makes this venue extremly attractive is it's constant sub tropical temperature of 840F
The rides and play areas are .Caribbean Storm Treehouse
South Beach, Blackpool, Lancashire, FY4 1BB Telephone 01253 343 602
Blackpool Sea Life Centre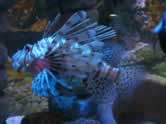 Sea Life Centre Lion Fish
photo by marcus_and_sue
Located on Blackpool's Golden Mile this fascinating has over 40 display tanks with exotic sea life, sharks, rays, seahorses, piranhas and the UK's only exhibition of poisonous sea snakes.
This is one of the largest marine exibit in the UK.
Be surrounded by sharks as you walk throgh a class sided tunnel
South Pier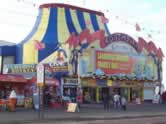 South pier Blackpool
photo by Jon's pics
Originallu constucted in 1893 as Victoria Pier it changed it's name to South Pier in 1930.Theatres were built on the pier but after fires in 1958 & 1964 these were converted. South Pier now houses an amusment arcade, dogems & and a several adrenaline surging thrill rides bungee jumping over the water and reverse bungee leaping, & the Skad and Skycoaster freefall rides.
By far the best pier for thrill seekers.
A family bar, the The Laughing Donkey is also on the pier and puts on entertainment.
Stanley Park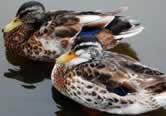 Stanley Park
photo by terry6082 Books
Stanley Park is Blackpool largest parkwith 250 acres and it has entertainment facilities. located about a mile inland. A beautiful park to relax in or have a quiet stroll
Its attractions include
Band Stand with various styles of music on occasions
Boating lake
Bowling greens
Children's playground
Crazy golf
Pitch and putt
Snack bars andan Art Deco cafe with Sunday jazz music
Tennis courts
Hop on Hop off bus stops at Stanley Park
Winter Gardens & Opera House Complex
The Opera House & Winter Gardens is a vast Victorian complex of a 2 theatres Opera House & Pavilion Theatre , Empress ballroom, Olympia exhibition centre and 3 upstairs halls
Opera House
The Opera House was opened in 1939 and is the largest theatre in the UK's, and Europe's second largest, holding 2920 people. Many of the World top entertainers have performed on it's stage. The theatre holds a selection of West End musicals, comedy acts, music concerts and variety shows
Empress Ballroom
The Empress Ballroom was built in 1896 and has an unusual barrel vaulted ceiling, beautiful crystal chandeliers, a fabulous parquet flooring and two tiers of magnificent balconies with a total capacity of 3000 people. The ballroom is directly connected to the 600 capacity arena making this the choice for many conferences, exhibitions and other events.
Pavilion Theatre & Horseshoe
The Pavilion Theatre has been restored to a beautiful condition and can hold 600 seats
Olympia
The home of many trade shows and exhibitions in it's purpose built design
Renaissance Hall
Baronial Hall
Designed in the theme of a medieval castle with dark oak paneling and full of heraldic paraphernalia.
Spanish Hall
An art deco venue with an Andalucian village wall painting and many 1930's fittings.
Address: Winter Gardens, Church St, Blackpool, Lancashire FY1 1HW