Leeds Tourist attractions, Civic buildings & places to visits
Loading...

To highlight a landmark on the map by click name below or click orange icons above
Guided Walks
Guided walks are organised by the City with a Leeds City guide leading the walk. The walks take place in the evenings and during the day at weekends. A charge is made.
Telephone: (0113) 252 6807
The walks include:
Pubs and Yards
Churches of Leeds
Historic Markets and Arcades
Criminals and Colourful Characters
Riverside Walkabouts. You may like to view pictures of my own riverside walk
The Town Hall ( photos and events) and Civic buildings.
TV themes
Museums
Abbey House Museum
Admission: Charged
Abbey Road, Kirkstall, Leeds LS5 3EH (On the opposite side of Kirkstall Road from Kirkstall Abbey)
Tel (0113) 230 5492
Directions:
By car: Follow the A65 (Kirkstall Road > Abbey Road) for apprx 2 ½ miles.from Leeds City Centre
Public Transport: Abbey House is located on a well serviced bus route.
The sights and sounds of Victorian Leeds. Three reconstructed Victorian street scenes.
Monthly events and activities
Admission: Charged
Armley Mills Industrial Museum
Leeds Industrial Museum, Armley Mills, Canal Road, Leeds LS12 2QF
Tel (0113) 263 7861
| | |
| --- | --- |
| Armley Mills Fire Engine | Armley Mills Beam Engine |
Working machinery that turned Leeds into a great industrial City. Try to visit when the 100 year old steam engine is fired up. See also the waterwheels. The mill shows how the indusrial revolution which started in Brtitain changed the World and made Britain a wealthy country.
The mill also contains a selection of cinema projectors. There are occasional shows at the 1920s cinema.
Admission Charged (Concessions available)
More Information & 14 photographs of Armley Mills
Website : www.leeds.gov.uk/armleymills
Leeds City Museum
The Museum has reopened in New Premices, Leeds Institute building on Millennium Square, formerly the Civic Theatre
Leeds City Museum, Millennium Square, Leeds, LS2 8BH
Horsforth Village Museum
Situated on the village green. Tel: (0113) 281 9877
The history of Horsforth
Fulneck Moravian Settlment and Museum
55 57 Fulneck, Pudsey, Leeds
Tel: (0113) 257 5474 / 256 4147
Open: Easter to October Wednesday and Saturday 2 4 PM Charge made.
Royal Armouries Museum
Royal Armouries Museum, Armouries Drive, Leeds LS10 1LT

Tel (0113) 220 1999

Admission Free

This is a must visit when in Leeds

See our seperate page of information and photographs of The Royal Armouries


Leeds Royal Armouries
Tetley's Brewery Wharf
This attraction has now closed and is now a bar, nightclub and restaurants
A major £100m redevelopment, includes refurbishment of Brewery Wharf and the sites adjacent to Brewery Wharf includes 300 flats, offices, restaurants and bars, a health and fitness club and a 150 bed hotel.
Thackray Medical Museum
Thackray Museum, Beckett Street, Leeds LS9 7LN
(Part of St James Hospital)
Tel (0113) 244 4343
2 miles from the city centre
Allow up to 3 hours for a visit.
"From the horrors of the Victorian operating theatrs to the wonders of modern surgery, the Thackray Museums galleries, collectiona and interactive displays bring to life the history of health and disease, treatment and cures, medical discoveries, equipment and technology."
Admission Charged (Concessions available)
More information Thackray Museum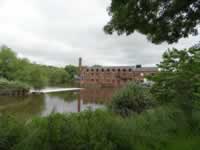 Thaite Mill Weir
Thwaite Mills Watermill
Thaite Lane, Stourton, Leeds LS10 1RD
Tel (0113) 249 6453
2 mile from the City Centre along Hunslet Road. This grinding mill is operated by 2 large waterwheels
Admission: Charged
More information Thwaite Mill and also videos & photos on

Art Galleries
Henry Moore Institute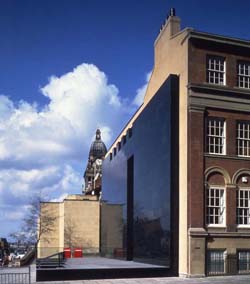 74 The Headrow, Leeds LS1 3AH
Tel (0113) 234 3158
Admission: FREE
The Institute contains three beautiful galleries showing a changing and diverse programme of exhibitions supported by books, and other events. The Institute also oversees the curation and development of the Leeds City Art Gallery sculpture collection and is joined to the Art Gallery by a bridge. It also has an active research programme, archive and library.
The Henry Moore Institute is open 10am until 5.30pm everyday and until 9pm on Wednesdays. The Institute is closed on Bank Holidays. Admission is free.
For further information about what's on please visit
www.henry moore fdn.co.uk or call 0113 246 7467
Award winning Institute. Sculpture exhibitions showing all periods and nationalities.. The institute is named after the greatest British sculptor Henry Moore (1898 1986), a Yorkshireman.
The three main galleries and Gallery 4 are situated within the Henry Moore Institute. The Institute is open daily 10.00 17.30, Wednesdays to 21.00, closed bank holidays. Information line 0113 234 3158 or visit www.henry moore fdn.co.uk. Admission is free.
The mezzanine gallery is situated within Leeds City Art Gallery, the building next door. Opening hours may be subject to change; ring 0113 247 8248 for confirmation, or visit www.leeds.gov.uk/artgallery.
Modelling Charlotte Perriand: a Project by Sadie Murdoch
3 March to 27 May 2007 in Gallery 4
The 1928 Chaise Longue, a design classic, has often been attributed simply to Le Corbusier, but was in fact designed in collaboration with the less celebrated Charlotte Perriand and Pierre Jeanneret, and its advertised image was not only conceived but also modelled by Perriand herself. In her project to put Perriand back into the picture, Sadie Murdoch (b.1965) meticulously reshapes the historical image, acting as both model and as artist in her own photographs.
Towards a New Laocoon
13 May to 12 August 2007 in the main galleries
The antique group depicting the Trojan priest Laocoon and his two sons being attacked by snakes was excavated in Rome in 1506 and almost immediately put on show in the Vatican. Since that date the sculpture, its restoration, and the way it tells its story, have exerted a strong fascination for artists and writers. This exhibition reveals the Laocoon's appeal for recent British sculptors Paolozzi, Cragg and Deacon – in terms of its intertwined forms, drama and suspense, and examines other moments of historical interaction.
Drawing on Sculpture: Graphic Interventions on the Photographic Surface
13 May to 12 August 2007 on the mezzanine
This study display, which uses works from the collections as well as on loan, investigates the ways in which sculptors since Rodin have used photographs as a way of understanding their own sculptures, or those of others. The graphic overlays, in pencil and in paint, range from the graffiti like marks which tend to accompany sculpture in the public space to more tentative and provisional adjustments of work in progress.
Kissing Cousins: A Fellowship Project by Jane Simpson and Sarah Staton
30 June to 30 September 2007 in Gallery 4
Jane Simpson (b.1965) and Sarah Staton (b.1961) held a joint Fellowship at the Institute in 2005 6. Using the Leeds' collections as a litmus paper against which to test their own tastes and interests, individual and combined, Simpson and Staton present their own selection within an environment designed by them.
Thomas Schütte: Decorative Work
23 September 2007 to 6 January 2008 in the main galleries
Thomas Schütte (b.1954) had astonishing early success with a group of works which, hung on the wall and referencing forms such as tiles, wallpaper and garlands, were concerned literally to almost make light of the impasse in which Minimalism found itself in the late 1970s. This exhibition, timed to coincide with more recent sculpture on show at Tate St Ives, brings together for the first time the complete set of these early 'decorative' pieces from an artist better known for his later works.

Indoors and Out: The Sculpture and Design of Bernard Schottlander
23 September 2007 to 6 January 2008 on the mezzanine
Bernard Schottlander (1924 1999) started his career attending evening classes in sculpture at Leeds School of Art. He became known as a designer before he was known as a sculptor and showcased by the Council of Industrial Design in the post war years with his elegantly profiled furniture and fittings. He went on to transpose his designs for the interior space onto the plazas created by the high rise office blocks of the time. This exhibition looks at the overlaps between his sculpture and his design (drawn respectively from the Institute's Archive and the University of Brighton Design Archives) and at their common sources.
Creation Myths: Epstein's 'Flenite Relief' of 1913 in Context
3 November 2007 to 11 February 2008 in Gallery 4
Following the recent acquisition of Epstein's 'Flenite Relief' for Leeds Museums and Galleries, this small study display examines the place of this remarkable carving within Epstein's own adventurous re working of the themes of birth and death, and in relation to that of his contemporaries.
Leeds City Art Gallery
Leeds City Art Gallery, The Headrow, Leeds LS1 3AA

Tel (0113) 247 8248

Admission: FREE. The regions premier Art Gallery covering three floors, the Leeds City Art Gallery, houses England's best collection of 20th century art outside of London, including collections of contemporary British sculpture, prints, watercolors,drawings and French post impressionist paintings.

Next door to the Henry Moore Institute


Leeds Art Gallery
Liston Studios
University of Leeds
Tel (0113) 343 5274
University Gallery
Parkinson Building, Woodhouse Lane, Leeds
Tel (0113) 343 2777
Admission Free