Search Leeds & UK Site
View leeds-uk on

Facebook
Page Contents
Armley Mills Industrial Museum
Parks
Chevin Forest Park Otley
Springhead Park Rothwell
Bramley Falls
A large open parkland with good views, also woodland and Leeds Liverpool canal side walk. Trim trail, orienteering course and sports pitches.
Chevin Forest Park Otley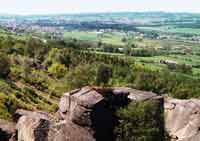 Location: Along the ridge of the river Wharfe valley, South West of Otley. The nearest point is approx. 9 miles from Leeds.
Telephone: (01943) 465023
Usually called Otley Chevin, is 700 acres of moorland and woodland. Walking, rock climbing, horse riding and biking on the bridle ways. Spectacular views overlooking the town of Otley and the Wharfe valley, from its high vantage points.
Access: Easy access to sections near to the A660 Leeds Otley road. Even better access from Otley Old Road a country lane that runs parallelish and to the West of the main road.
Golden Acre Park
Tel: (0113) 261 0374
Location: 6 miles North West from the City Centre on the A65
130 acres of gardens, woodlands and lake
Middleton Park
Tel:(0113) 232 3069
Location: 3 miles from Leeds City Centre. A large park consisting of ancient woodlands, 18 hole golf course, bowling greens, play area, tennis court, basket ball court, inline scating, fishing lake, small pond and miles of foot and bridle paths.
Summer Events
Local band concerts and community events
Pudsey Park
Location: In the heart of pudsey
Aquarium, aviary, tropical glasshouse, pets corner, play area and bowling green.
Rothwell Country Park
Location: 8 miles from Leeds City centre, access from First Avenue off the A639.
Opened in 2000, formerly a colliery. Footpaths and trails through establishing coppices, ponds and woodlands.
The trans Pennine trail runs through the park.
Rounday Park

Tel: (0113) 266 1850
There are 2 large lakes attracting many wild birds within the 500 acre park. Festivals and events take place in the large natural arena. Includes sports area, playing fields, tennis courts, bowling green, playground, golf course and lakeside cafe.
Licenced drinks can be obtained in the Mansion
More photographs anf information Rounday ParkCanal Gardens and Tropical World
Springhead Park Rothwell
Tel: (0113) 232 3069
Location: 7 miles from Leeds City centre, along side the A639.
Open grassland and formal gardens with Oulton beck running through the parkland. Facilities: tennis courts, bowling green, playgrounds, skate park, aviary, rose garden and cafe.
Stockeld Adventure Park
A large adventure park that the kids & the whole family will love.
Located within the 2000 Stockeld Park House acre estate. The house was built in 1875.for Sir William Middleton.
Video of Easter, Spring & Summer Adventures at Stockeld Park
Enchanted Forest
On the A661 between Leeds & Harrogate, 2 kilometres NE of Wetherby.
Temple Newsam Park
Temple Newsam, see also the house and farm
Guided Walks & Tours
Guided Walks Leeds United Stadium Tours
Guided Walks
Guided walks are organised by the City with a Leeds City guide leading the walk. The walks take place in the evenings and during the day at weekends. A charge is made.
Telephone: (0113) 252 6807
The walks include:
Pubs and Yards
Churches of Leeds
Historic Markets and Arcades
Criminals and Colourful Characters
Riverside Walkabouts. You may like to view pictures of my own riverside walk
The Town Hall ( photos and events) and Civic buildings.
TV themes
Leeds United Stadium Tours
See behind the scenes: Dressing rooms, Walk down the Players Tunnel, Sit in the managers seat in the dugout
Leeds United Stadium Tours Website
Museums
Abbey House Museum
Admission: Charged
Abbey Road, Kirkstall, Leeds LS5 3EH (On the opposite side of Kirkstall Road from Kirkstall Abbey)
Tel (0113) 230 5492
Directions:
By car: Follow the A65 (Kirkstall Road > Abbey Road) for apprx 2 ½ miles.from Leeds City Centre
Public Transport: Abbey House is located on a well serviced bus route.
The sights and sounds of Victorian Leeds. Three reconstructed Victorian street scenes.
Monthly events and activities
Admission: Charged
Armley Mills Industrial Museum
Working machinery that turned Leeds into a great industrial City. Try to visit when the 100 year old steam engine is fired up. See also the waterwheels. The mill shows how the indusrial revolution which started in Brtitain changed the World and made Britain a wealthy country.
The mill also contains a selection of cinema projectors. There are occasional shows at the 1920s cinema.
Admission Charged (Concessions available)
More Information & 14 photographs ofArmley Mills
Website : www.leeds.gov.uk/armleymills
Leeds Industrial Museum, Armley Mills, Canal Road, Leeds LS12 2QF
Tel (0113) 263 7861
Leeds City Museum
The Museum has reopened in New Premices, Leeds Institute building on Millennium Square, formerly the Civic Theatre
Leeds City Museum, Millennium Square, Leeds, LS2 8BH
Horsforth Village Museum
Situated on the village green. Tel: (0113) 281 9877
The history of Horsforth
Fulneck Moravian Settlment and Museum
55 57 Fulneck, Pudsey, Leeds
Tel: (0113) 257 5474 / 256 4147
Open: Easter to October Wednesday and Saturday 2 4 PM Charge made.
Royal Armouries Museum
Royal Armouries Museum, Armouries Drive, Leeds LS10 1LT
Tel (0113) 220 1999
Admission Free
This is a must visit when in Leeds
See our seperate page of information and photographs of The Royal Armouries
Tetley's Brewery Wharf
This attraction has now closed and is now a bar, nightclub and restaurants
A major £100m redevelopment, includes refurbishment of Brewery Wharf and the sites adjacent to Brewery Wharf includes 300 flats, offices, restaurants and bars, a health and fitness club and a 150 bed hotel.
Thackray Medical Museum
Thackray Museum, Beckett Street, Leeds LS9 7LN
(Part of St James Hospital)
Tel (0113) 244 4343
2 miles from the city centre
Allow up to 3 hours for a visit.
"From the horrors of the Victorian operating theatrs to the wonders of modern surgery, the Thackray Museums galleries, collectiona and interactive displays bring to life the history of health and disease, treatment and cures, medical discoveries, equipment and technology."
Admission Charged (Concessions available)
More information Thackray Museum
Thwaite Mills Watermill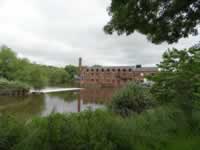 Thaite Mill Weir
Thaite Lane, Stourton, Leeds LS10 1RD
Tel (0113) 249 6453
2 mile from the City Centre along Hunslet Road. This grinding mill is operated by 2 large waterwheels
Admission: Charged
More information Thwaite Mill and also videos & photos on

Art Galleries
Henry Moore Institute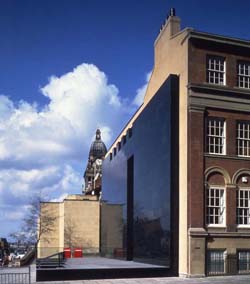 74 The Headrow, Leeds LS1 3AH
Tel (0113) 234 3158
Admission: FREE
The Institute contains three beautiful galleries showing a changing and diverse programme of exhibitions supported by books, and other events. The Institute also oversees the curation and development of the Leeds City Art Gallery sculpture collection and is joined to the Art Gallery by a bridge. It also has an active research programme, archive and library.
The Henry Moore Institute is open 10am until 5.30pm everyday and until 9pm on Wednesdays. The Institute is closed on Bank Holidays. Admission is free.
For further information about what's on please visit
www.henry moore fdn.co.uk or call 0113 246 7467
Award winning Institute. Sculpture exhibitions showing all periods and nationalities.. The institute is named after the greatest British sculptor Henry Moore (1898 1986), a Yorkshireman.
The three main galleries and Gallery 4 are situated within the Henry Moore Institute. The Institute is open daily 10.00 17.30, Wednesdays to 21.00, closed bank holidays. Information line 0113 234 3158 or visit www.henry moore fdn.co.uk. Admission is free.
The mezzanine gallery is situated within Leeds City Art Gallery, the building next door. Opening hours may be subject to change; ring 0113 247 8248 for confirmation, or visit www.leeds.gov.uk/artgallery.
Leeds City Art Gallery
Leeds City Art Gallery, The Headrow, Leeds LS1 3AA
Tel (0113) 247 8248
Admission: FREE. The regions premier Art Gallery covering three floors, the Leeds City Art Gallery, houses England's best collection of 20th century art outside of London, including collections of contemporary British sculpture, prints, watercolors,drawings and French post impressionist paintings.
Next door to the Henry Moore Institute
Liston Studios
University of Leeds
Tel (0113) 343 5274
University Gallery
Parkinson Building, Woodhouse Lane, Leeds
Tel (0113) 343 2777
Admission Free
Misc

Princess Avenue, Rounday, Leeds LS8 2PR
Admission: FREE
More photographs and information Canal GardensRounday Park and Tropical World
Kirkstall Abbey
Admission: FREE
Built in 1100s next to the River Aire by Cistercian monks. Kirkstall Abbey is one of the best preserved monastic sites in the country and currently is being further restored.
Guided Tours in Summer
How to Get to Kirkstall Abbey
A65, 3 miles west of Leeds city centre Kirkstall Abbey can be found approximately 1·4 mile after the Kirkstall Retail Park on the right. Level access from the main road. Car park on the other side of the road.
Buses Kirkstall Abbey is located directly on a well serviced bus route. Buses 33, 732, 733, or 736 from Central Bus Station via Park Row and Wellington Street, go direct to the Abbey.
Trains Leeds City Station
Books
Kirkstall Abbey
A 16 pages paperback by Peter C D Brears
Price Guide: £0.50
Kirkstall Abbey,1147 1539: An Historical Study
A 106 page paperback by Guy D. Barnes
Price Guide: £4.50
Kirkstall Abbey: The Guest House A Guide to the Mediaeval Buildings and to the Discoveries Made During Recent Excavations
A 30 page paperback by Stuart Wrathmell
Price Guide: £1.25

Picture Story of Kirkstall Abbey
A 16 page paperback by David Thornton
Price Guide: £2.50
Map Kirkstall 1906
Middleton Railway
Moor Road Hunslet Leeds LS10 2JQ
Tel (0113) 0320 www.middletonrailways.org.uk
Open: Weekends and bank holidays, April to December only.
Bus No. 61 from Aire Street near Leeds Raiway Station, to Beza Street (next to Moor Road Station)
Middleton Railway is the worlds oldest working railway, check about rides and special events. Collection of steam engines, many over 100 years old and more modern diesel engines.
The line runs into Middleton Park with its picnic areas and nature trails.
Try to visit the shed to see restoration work in progress.
Admission: Charged (Concessions available)
Town Hall
The most extensive programme of Free Music in Britain is based in the Leeds Town Hall
Tropical World

Canal Gardens, Princes Avenue, Leeds LS8 2PR
Tel (0113) 266 1850
A spectacular tropical mix of Amazon rainforest and desert areas
Butterfly house,
Pools of colourful fish
Tropical birds
Tropical insect house
Aquarium
Exotic plants
Nocturnal house
More photographs and information Canal Gardens, Rounday Park and Tropical World
Great Houses
Temple Newsam House , Home Farm and Park
Harwood House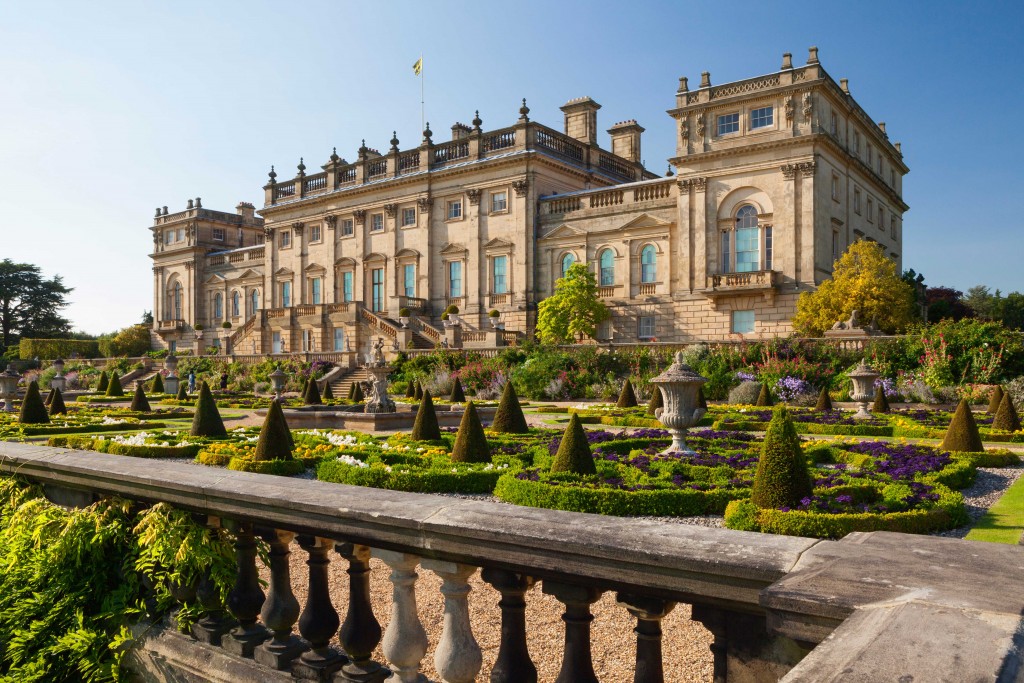 Harwood House & Terrace
House and Gardens open to the public. Admission Charge
The House and Estate are owned by George Lascelles,The Earl of Harewood, first cousin of Queen Elizabeth II.
Address & Location
Harewood House Trust, Harewood House Harewood, Leeds LS17 9LG
Located on the A61 between Leeds & Harogate. 7 miles from both cities
Lots of Parking space.
Bus services run from
Leeds, Harrogate 36 Mon-Sun
Otley to Tadcaster via Wetherby 923 Mon-Sat
Harwood House Website
Lotherton Hall
A charming Edwardian Hall, Woodlands, Formal Garden, Deer Park and Bird Garden
Lotherton Hall, Towton Road, Leeds LS25 3EB
Location 13 miles from city centre, 2.5 miles from M1 Junction 47
Buses to and from Leeds:
64, 64A to Aberford, then approximately 20 mins walk 2 buses per hour Monday to Saturday daytime, hourly service evenings and weekends. Direct buses: 56/7 summer holidays only.
Temple Newsam House, Home Farm & Gardens
Tel: (0113) 264 5535
Location: 4 miles from Leeds City centre off the A63 Selby Road. 2 Miles from M1 Junction 46
House
Admission: Charged
The magnificent Jacobean / Tudor house is 500 years old and the birth place of Mary Queen of Scots husband, Lord Darnley. Stroll round the 3 floors of this wonderful country house, listen to the free audio guides
Full of renound furniture some by the master craftsman Chippendale.
Home Farm
Admission: Charged
The largest rare breeds farm in Europe, with 400 animals. Craft demonstrations on special event days. See the historic agricultural equipment.
Gardens and Park
There are 1500 acres of parkland, woodland, farmland and gardens. Admission: FREE
1,500 acres of parkland, woodland, gardens and 2 golf courses. Landscaped by Capability Brown in the 18th century