Search Leeds & UK Site
View leeds-uk on

Facebook
DFDS Seaways Ferry Crossings, Holidays, Mini cruises, City breaks by sea
When you sail with DFDS Seaways you will experience a special maritime atmosphere, with professional staff and an international level of service. Many view us as the very best travel option, in terms of the range of services we offer for both passenger and vehicle transport.
For more than 139 years DFDS has been operating passenger ships between European cities, and it is now one of the biggest passenger shipping companies in Northern Europe.
We now operate a fleet of 6 modern holiday liners, and measured in terms of overnight stays we are one of the biggest hotel chains in Scandinavia. With approx. 7,000 overnight stays per day during the summer season, we transport approx. 1.7 million passengers and approx. 200,000 vehicles on four routes between Denmark, Sweden, Holland, the UK and Norway.
DFDS Seaways Routes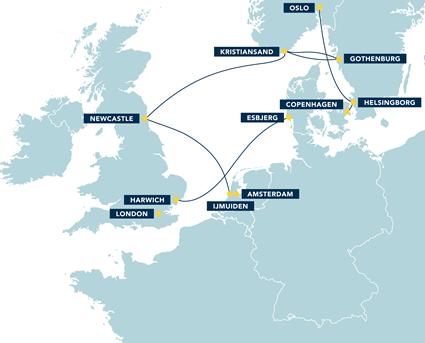 Newcastle Amsterdam
Video Onboard a DFDS Seaways Ship Newcastle-Amsterdam Route
Harwich to Denmark

With easy access to Sweden & Germany
DFDS Special Offer 2 night, 3 night & New Year Mini Cruise Break Newcastle to Amsterdam
Departures from Newcastle
WHAT'S INCLUDED
2 nights onboard ship in your chosen cabin
Coach transfers to and from Amsterdam
Sightseeing tour of Amsterdam
Live entertainment onboard
DFDS Restaurants and Cafes on board DFDS ships from Newcastle
The ships have a selection of different restaurants and a 'Bake'n Coffee cafe'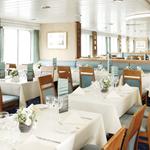 Seven Seas Buffet restaurant
Famous for it's traditional "Smorgåsbord" which literally means "
a Feast or Open Table of different foods, including a variety of
fresh seafood such as Salmon, Crayfish, Prawns and Herring,
there are over 30 different dishes!
Pre book your meals and save money
Bars on board DFDS ships from Newcastle
m.s. Queen of Scandinavia
Navigators Bar
Mermaid bar
Blue Riband bar
Neptune sky bar located on the top deck in the open air
m.s King of Scandinavia
Navigators Bar
Sports bar
Blue Riband bar
DFDS's new ship, the m.s. King of Scandinavia

DFDS's new ship, the m.s. King of Scandinavia is the Largest passenger ship to ever sail out of the Tyne on a scheduled service and she made her first public voyage from Newcastle bound for Amsterdam on the 12th March 2006.