Search Leeds & UK Site
View leeds-uk on

Facebook
Leeds Information and Guide, hotels, flights, holidays & shopping information.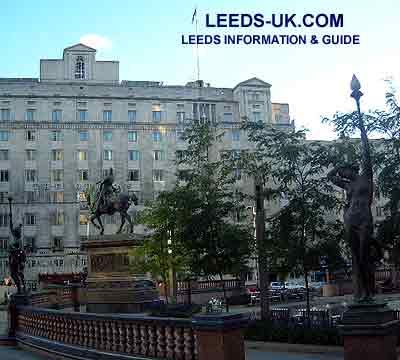 Photograph: Leeds City Square, Black Prince and Nymph statues, and the impressive The Queens hotel is in the background
Our Latest New Pages
London
Free Leeds city centre bus
The new FREE Leeds bus service has been in operation for some time now and is extremely popular.
For more information See Free Leeds city centre bus
Energy Bills go through the roof
See if you can save £100s of pounds
Use any of the following firms to check how much you could save by switching supplier(s).
Better rates can be obtained by getting electricity and gas from the same supplier
If you have never switched you will probably be paying your suppliers most expensive rate
Energy Gas, Electricity Independent Switch advisers
Energyhelpline help customers save money on their gas & electricity, home phone and heating insurance through a price comparison service. The service is only available for UK residents. Once they have found the right service for them they can sign up by filling in a few simple details and we do the rest of the admin for the. The service is free of charge, impartial and independent and is certified by Energywatch the regulatory body.
More information Energyhelpline
Uk and foreign Hotels, Flights, Travel and Holidays
Visit our Holiday home page
News At Leeds Bradford Airport
The airport
With it's increased number of flights and improved check in facilities Leeds/Bradford airport is again the fasted growing airport in the UK. The increase in passengers over the previous year was 17%
Leeds/Bradford airport Flight information Leeds/Bradford airport
Leeds voted favourite city
From BBCi ''Leeds voted favourite city"

It is no longer grim up north The City of Leeds has been voted the UK's favourite city.
The Yorkshire city left London trailing in the survey by the magazine Conde Nast Traveler.
With its bustling nightlife, boutiques and hotels along with designer shops, Leeds is a hit with the 82,000 readers of the upmarket magazine.
London came second in the magazine's annual readers' awards, followed by Edinburgh, which topped the poll last year. Glasgow and Bath made up the top five.
The Lonely Planet guide recently dubbed Leeds the "Knightsbridge of the North".
The judging criteria included architecture, culture, food and value for money.
Liverpool got the highest marks for hospitality, Glasgow was voted the most user friendly city and Bath was named the cleanest city in the UK.

A delighted spokeswoman for Leeds City Council said: "This is another important step towards establishing Leeds as an internationally cosmopolitan tourism destination."
Site Contents
The following table contains a quick guide to the contents on this site
Home
This Page
Hotels

Leeds guide to Nightlife

Books
Books, Leeds and Yorkshire
The City
Corn Exchange
List of Corn Exchange Shops

Eating Out
List of Cafes, take always and restaurants

Entertainment
Theatres:City Varieties , Civic ,
Grand Theatre , West Yorkshire Playhouse

Cinemas :Cottage Road, Hyde Park, Vue Cinemas, Showcase Cinemas
History
A time line on the history of Leeds includes National Major Events
Links
Links to further City of Leeds information and Yorkshire
Nightclubs
Clubbing, List of Nightclubs

Places to Visit
Parks, Museums, Stately homes and places of Interest.
River Walk
A walk along the river Aire between the Granary Wharf (Railway station) and the Royal Armouries Museum Museum in the centre of Leeds
Services
Hairdressers
Fire Safety
Web Design
Disclaimer:
The information on this web site is as accurate as possible, but it is provided "as is"
We accept no responsibility for any loss, injury or inconvenience sustained by anyone resulting from information provided.
Please note: leeds uk accepts no responsibility for the content of external web sites We do not knowingly link to web sites of an "Adult" or "Objectionable nature".

Please verify critical information.