Nostell Priory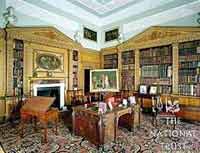 Nostell Priory, Doncaster Road, Nostell, Wakefield, West Yorkshire. WF4 1QE
Tel: 01924 863892
Built in 1733, an architectural masterpiece. Fine collection of Chippendale furniture, art treasures, paintings and an 18th century dolls house.
Location: 5 miles South East of Wakefield, off A638
Send a SAE for a brochure of the events taking place.
Pennine Way
A 268 mile (429km) well signed trail running North / South along the backbone of England from the Peak
District through the Yorkshire Dales and over Hadrian's Wall to the Cheviot Hills. A brilliant walking experience along old miners tracks, pack horse routes and drove roads. The walk reaches a maximum height of 893m (2947 ft) at Cross Fell.
The record for walking the Pennine Way is 2.5 days. The average walker takes at least a fortnight. Besides walking the entire distance in around a fortnight , the Pennine Way can be walked in sections over a series of weekends.
A certificate is available for people who have completed the Pennine Way.
Many hikers only travel along a smaller section of the Pennine Way, doing a different section each weekend.
Ensure you know "The Mountain Code" before attempting any part of this walk see the Top Tips on the Pennine Way Website Pennine Way National Trail
Several books are listed in the left panel
Bronte Country
There are many tourist attractions in Bronte Country some of the main ones are listed below.
Haworth Village
South West of Keighley (pronounced Keighley)
Bronte Weaving Shed
Bronte Parsonage
Haworth Hotels
East Riddlesden Hall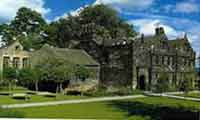 17th century merchants house, collection of 17th century textiles and oak furniture. Wonderful gardens with old varieties of apple trees
Location: Riddlesden 1mile North East of Keighley , just off the B6265. In the heart of Bronte country.
Public Transport: From Bradford 662, Bingley, Keighley and Leeds AireLink 760. Alight at Riddlesden, Granby Lane, West Lea Avenue.
For More details see the www.bronte country.com website
Bingly Five Rise Locks
Situated on the Leeds Liverpool Canal built between 1770 and 1816. The first trans Pennine canal.
Public Transport: Leeds AireLink 760 bus. Alight at Crossflatts, Canal Road. After visiting the 5 rise lock continue along the canal past the 3 rise locks and get a bus at Bingly, Park Road.
Keighley & Worth Valley Railway
Steam Trains at Weekends and daily in Summer from Keighley. Places on route Museum of Rail Travel Ingrowl, Damems, the smallest station in Britain. Oaksworth ( The original Railway Children's Film) Haworth and Oxenhope.
Public Transport:
Bus Leeds AireLink 760 bus. Alight at Keighley Rail station
Train: You can get a normal railway train to Keighley from Leeds.

Click for tickets
Museum of Rail Travel & Relics Shop
I mile from Keighley Town centre on the A629
Visit the Museum whilst traveling on the Keighley & Worth Valley Railway
West Yorkshire Castles
Grinton Helmsley Pontefract Swainby / whorlton nr Wakefield
Leeds West Yorkshire.
There are no remains or plans of the castle that was once at Mill Hill Leeds, West Yorkshire.
There is a Leeds castle in Kent.
West Yorkshire Dales Information
Airedale Calderdale and Wharfedale are within West Yorkshire. Most of the Yorkshire dales are situated in North Yorkshire. See North Yorkshire Dales
Airedale: Keighley, Bronte Country in the West to Leeds in the East the river Aire continues to just North of Goole
Calderdale
Leeds Settle Carlisle Railway Information
Website: www.settle carlisle.co.uk
England's most scenic railway
Trains from Leeds to Carlisle can travel on this famous section of railway line.
Some of the best scenic country side can be found in this area, and is ideal walking country. Take advantage of the organised walks that are arranged.
Guided Walking Programs
Guided Walking Programs are organised from railway stations on this route on some Wednesdays, Saturdays and Sundays. Leaflets are available at stations and tourist offices.
Some of the walks are further a field from the stations and involves the use of a bus. The walks are free but train and bus fares have to be paid. The walk leaders will meet you at the destination station platform. Some walks return from a different station.
A similar scheme of Guided Walks takes place from stations on the Leeds Settle Lancaster Morecambe line.
See the leaflet with regards to footwear, clothing including waterproof clothing. There is a grading for difficulty from Moderate to Extra Strenuous.
Hotels
Yorkshire Sculpture Park West Yorkshire
West Bretton, West Yorkshire, England, WF4 4LG Tel: (01924) 830579 Fax: (01924) 832600
Located south of Wakefield a short distance from Junction 38 on the M1 motorway
The West Yorkshire Sculpture Park is set in the beautiful grounds of the Bretton Country Park and contains sculptures by famous artists
Free entry and cheap car parking with good disabled parking and access facilities
Bradford Information
Leeds Bradford Airport Information
Leeds Bradford Airport Flights
Ilkley Information
Distance from Leeds: 17 to 20 miles, there are 2 main routes either by Guisley, home of the original Harry Ramsden's Fish and Chip shop, or by Otley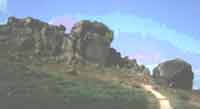 The Moors famous for Yorkshires National Anthem "On Ilkla Moor Baht 'at" translates to "On Ilkley Moor without a hat". One of the features are the Cow and Calf rocks popular area for walkers and rock climbers.
Words to "On Ilkla Moor baht 'at"
Ilkley hotels
Otley Information
Distance from Leeds: Shortest and Quickest 12 miles
Via: Bramhope
Otley, part of the Metropolitan District of Leeds lies 10 miles to the North from Leeds City centre and is a traditional market town, situated on the river Wharfe.
Wonderful markets on Tuesdays, Fridays and Saturdays.
Town Museum The Civic Centre, Cross Green, Otley
English tearooms
Attractive public gardens.
Otley Chevin
Parts of All Saints church are 1000 years old dating back to Norman times.
Otley Hotel
Pontefract
Pontefract Horse Race Course
Pontefract Castle
Pontefract Hotels
Wakefield Information
Wakefield Hotels
Information about Wakefield's Hotels
Wakefield Bars, Pubs and Clubs
Bars and pubs in Westgate and Bull Ring
Bar Latino, Bing Bada Boom, The Elephant and Castle, Henry Boons, Ikon / Mustang Sally's, The Pink Lizard

Gay bars and pubs
See Gay Wakefield
Page Contents
West Yorkshire Hotels
Bradford Hotels Wakefield Hotels
West Yorkshire places to visit, tourist attractions and walks
Airedale Way Bingly Five Rise Locks Bronte Country East Riddleston Hall Emley Moor Hardcastle Crags Keighley & Worth Valley Railway Leeds: Settle Carlisle Railway Marsden Moor Museum of Rail Travel National Coal Mining Museum Nostel Priory Pennine Way West Yorkshire Dales
West Yorkshire Cities, Towns and Villages
Bradford Haworth Village Ilkley Otley Wakefield
Bars and pubs
Links
More Yorkshire Links on this site